END OF ACADEMY CONCERT<
4th Baroque academy of the Nuits Musicales d'Uzès


Educationla direction
Les Ombres – Sylvain Sartre, Margaux Blanchard
The teachers:
Emmanuelle de Negri et Marc Mauillon, singing
Sylvain Sartre, baroc transverse flute
Margaux Blanchard, viola de gamba
Brice Sailly, harpsichord
Anaïs Ramage, bassoon et Recorder
Benjamin Chégnier, violin

After an intense week of musical exchanges between teachers and pupils, the academy will exhibit its work in the form of a concert. Chamber music, choir and orchestra will all be part of the event.
Free admission on registration
Experience a week to the rhythm of the Academy!
Find out here all the meetings and events of the Academy.
Partner of the Academy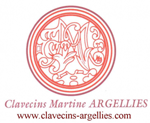 Prices
---
12€

gratuit pour les -25 ans

12€

gratuit pour les -25 ans
12€

Free admission if under 25 yo

12€

Free admission if under 25 yo
12€

gratuit pour les -25 ans

12€

gratuit pour les -25 ans
12€

Free admission if under 25 yo

12€

Free admission if under 25 yo
gratuit sur inscription

gratuit sur inscription
Free admission on registration

Free admission on registration
12€

gratuit pour les -25 ans

12€

gratuit pour les -25 ans
12€

Free admission if under 25 yo

12€

Free admission if under 25 yo
12€

gratuit pour les -25 ans

12€

gratuit pour les -25 ans
12€

Free admission if under 25 yo

12€

Free admission if under 25 yo
gratuit sur inscription

gratuit sur inscription
Free admission on registration

Free admission on registration
Concert de 18h30

15€

Concert de 20h30

15€

Concert de 18h30

15€

Concert de 20h30

15€
18:30 concert

15€

20:30 concert

15€

18:30 concert

15€

20:30 concert

15€
Seating Plan